Aespa, the four girl group of SM Entertainment had just debuted officially last October 2020. Their first broadcast debut was on November 20, 2021 in the KBS2 Music Bank. Performing their debut single Black Mamba, Karina, Giselle, Winter and Ningning owned the stage!
That is why when they released their debut extended play, Savage, people went mad! The EP, composed of six songs. This EP was released October 5, 2021 with three different versions – P.O.S., Synk Dive and Hallucination Quest.
Here is an honest review of the album Savage. Is the hype about these girls right?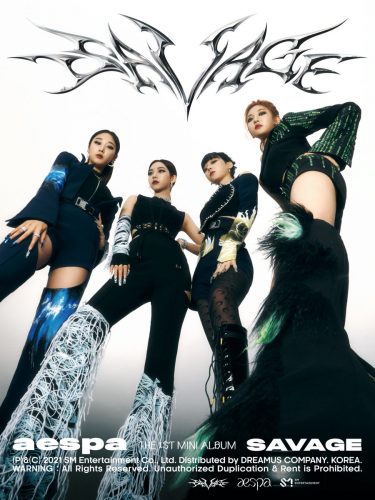 AENERGY

I honestly think that this song is the perfect song among the rest of the singles in the album. Although I love Savage, Aenergy is more catchy in my opinion. And with that, this makes the well-fitting song for concerts in huge arenas or stadium. Imagine thousands of people waiting, imagine the four ladies entering, the beat of the drums playing, the lights flashing then boom, Aenergy! What a unique and badass song to start a show don't you think? Apart from the musicality, I love how this song also tells their own story. Finally, Ningning's voice is just music to our ears!
SAVAGE
Savage is honestly just too addicting! I have been listening to it for how many days now and I just couldn't get enough! The bridge of this song could honestly be a soundtrack for a movie! For the performance, I think that Ningning performed effortlessly particularly in the riffs and runs. As for Karina, I think that she should be pushed to be the vocal – her high notes are so pleasing to the ears. Finally, Winter! Can I just say Winter is phenomenal! She is so talented, she can do high notes, low notes and performs all these with clarity, stability and vibrancy!
I'LL MAKE YOU CRY

I did cry after hearing this song. I cried happy tears! Gisele's intro is just on fire! Can't believe our girl did that? Her voice is just too perfect for this song, as if it was tailored just for her! After hearing this, I thought to myself, I am glad I bought this album! This is actually one of my favorites in the album. Every time I listen to this song, I think of the final level in a video game challenge. This pumps me up with no fail!
YEPPI YEPPI
Okay, I have no words but of praise for this song. I know this is not the title track, I know this is just a track, but dang, this song could be the one! SM knows how to do it don't they? Lyric wise, it is just so refreshing to hear a song about pretty girls celebrating their pretty selves. This makes this iconic! For the musicality, I think that Karina and Giselle excelled in this song. They just proved, in a single track, that SM Entertainment do have good girl rappers. Giselle's voice is so versatile – she can rap yet her tone is still rather soothing. It doesn't hurt my ears unlike others.
ICONIC
What is iconic? This song is iconic! This group is the first group that made me love all the members equally. Aespa bias? What is that? They are all my biases! Everyone in this group is so talented and just breathtakingly stunning! Also, the pre-chorus part is just *chef's kiss*, so refreshing!
LUCID DREAM
If I were to describe this song in one word, it would be velvety. Am I right? I think this is the best song to end the album with as it showcased the girls' real talent. How can there be 4 vocalists and 4 rappers in a group of 4? AESPA! They showcased in this song their modern and futuristic take on Kpop, giving us experimental yet pleasantly surprising tracks. Win-win!
If this review didnt convince you yet, then what are you waiting for? Just listen to it and you'll surely know what you are missing!