JULIA BARRETTO has been in the industry since she was a child. Practically a showbusiness royalty, she is the daughter of Dennis Padilla and Marjorie Barretto. Her aunts are the stunningly beautiful Claudine and Gretchen Barretto.
Despite her impressive lineage, Julia worked her way to the top. We saw her in various commercials as a kid. Although she didn't totally dipped her feet in films and movies back then, she was constantly in commercials.
Many years later, she came back and built her career from ground up. From commercials, television shows, films, magazine covers, she did it and she has it all. Here are my favorite Julia Barretto films you may want to watch.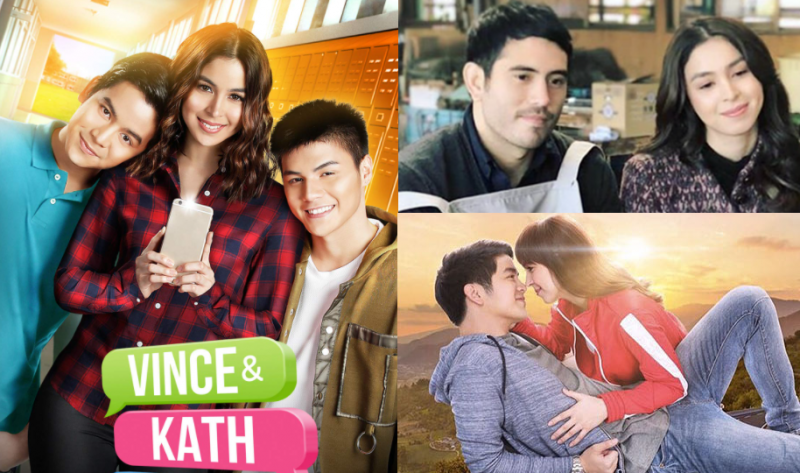 Vince and Kath and James
This is my favorite Julia Barretto film. Here she played the role of Kath, the smart, responsible and pretty Miss Engineering of her batch. Despite her seemingly perfect life, her home life is a mess. Her father left her and her mother and younger brother. She has to act like the man in the family, working in her uncle's car repair shop and joining contests to make ends meet. Although love is not her priority, her attractive nature attracted the attention of two fellow schoolmates, both of them are cousins played by Joshua Garcia and Ronnie Alonte. Although Kath and James (Ronnie) were beginning to establish a relationship, it was Vince (Joshua) who was always there for her ups and downs. Will liking her rift the cousins apart? Or will their lives finally fall into place?
I Love You, Hater
The Joshua and Julia tandem that was established in the film Vince and Kath and James came strong in this film. I Love You Hater is a film of enemies turn lovers. Joko (James) and Zoey (Julia) are fighting to be the personal assistant of the multimedia mogul and superstar Sasha Imperial (played by Kris Aquino). Due to the opportunities and compensation that the much coveted position brings, the two brought it on as they fight to be more competitive, showing that they are deserving. With this competition, will love flourish between the two?
Para sa Hopeless Romantic
Before JoshLia, Julia was paired first with Iñigo Pascual. Para Sa Hopeless Romantic stars starring James Reid, Nadine Lustre, Julia Barretto and Iñigo Pascual in this teen romantic film. Based on the best selling work of Marcelo Santos III, this film showcases the life of Becca (Nadine) who began to write a story after her boyfriend Nikko (James) broke up with her. To cope with her heartbreak, she pens a story about Ryan (Iñigo) who falls in love with his best friend Maria (Julia). Will the two pair find the happy ending they have all been waiting for?
Love You To The Stars and Back
JoshLia was reunited again in this film. Love You To The Stars and Back tells the story of an awkward but pretty girl Mika (Julia) who embarked on a road trip to look for aliens. On her way to her destination, she bumped into a happy and simple minded boy named Caloy (Joshua). She decided to give him a free ride until he reaches his destination. In this teen-coming of age romantic film, they worked together to surpass their various adventures and misadventures, learning about life and love along the way.
Unexpectedly Yours

Unexpectedly Yours shows the reunion of two great love teams – Joshua and Julia, and of course, the megastar Sharon Cuneta and Robin Padilla. It tells the story of two ex-lovers – Patty (Sharon) and Cocoy (Robin). Patty found herself drunk and in the arms of her ex love Cocoy. It turns out that Cocoy is also her neighbor. Will they finally rekindle their romance after all these years?
Between Maybes
Of course, last but not the least, Between Maybes. Shot in Saga Prefecture in Japan, Hazel (Julia Barretto) is a former child star who is facing some challenges in her showbiz career and her mother's constant nagging. Wanting to get away from the pressure, she flies to Japan where he meets Louie, a Pinoy who lives alone and works in a simple restaurant. The two meet unexpectedly and soon, deeper feelings developed. Will Hazel and Louie be able to maintain their relationship despite their reality with Hazel being a celebrity in the Philippines and Louie in Japan? Also, this film is special because it is the project where Gerald and Julia met… and fell in love.
So which one here is your favorite? Let me know in the comments section below!