MARCH may be in the air, and you might be wondering why this year has been going on too fast with too many events all at the same time.
If you needed a breather, to escape the reality even for just an hour, I got your back. I have personally curated these series so you can pick whichever is to your liking.
Here I present to you the top 5 upcoming Korean dramas to watch for this wonderful month of March!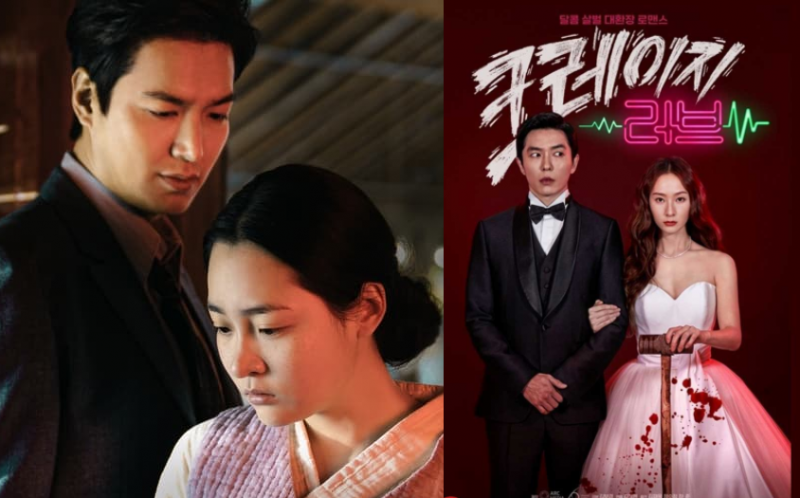 Crazy Love
Crazy Love is a fan's dream come true! I have been following Kim Jae Wook since his Coffee Prince days! And I was so happy to see him team up with the stunning Park Min Young in Her Private life in 2019. This time he is back with a vengeance! Teaming up with the multi-talented Krystal Jung, these two is set to work for the first time together in Crazy Love.
This drama will relay the story of a narcissistic young business man as he pretends to have amnesia to get away from the death threats he has been receiving. In a whirlwind series of events, he got entangled with a single and honest person, who happens to be his secretary. Will they find love in a seemingly hopeless situation? This series stars Kim Jae Wook as Noh Go Jin, Krystal Jung as Lee Shin Ah and Yoo In Young as Baek Soo Young
Kill Heel
Kill Heel is a drama you know you would not stop watching. This thriller drama television series tells the story of a cut throat competition in the world of fashion and shopping. Three highly ambitious and driven individuals try to outperform each other in the stressful and quota drive world of shopping, specifically in making sales and getting that fat corporate profit. Due to this stifling competition, will one of them back out? Or will it turn into a series of unexpected events? This series stars Kim Ha-Neul as Woo-Hyun, Lee Hye-Young as Mo-Lan, Kim Sung-Ryoung as Ok-Sun and Kim Jae-Chul as Hyun-Wook.
Pachinko
Based on the worldwide bestseller novel by Min Jin Lee, Pachinko is a gripping drama television series that embodies the struggle of an immigrant Korean family. The story revolves around the love and life of Kim SunJa, a native Korean who fell in love with a man and gave him her everything. Blinded by love, she realized later that the man she fell in love with, and the father of her soon to be child, is already married.
Saved by a priest, who decided to marry her, this newly built family moved to Japan to start a new life. Their struggles, their life and their will for survival is something to watch out for! The series casts are Lee Min-ho as Koh Hansu, Youn Yuh-jung as Sunja, Jin Ha as Solomon Baek and Anna Sawai as Naomi
Soundtrack #1
This is honestly the Korean drama series that I have been dying to watch! I have been waiting for this for many weeks now because of the enticing trailers and swoon worthy scenes! Soundtrack #1 is not your traditional co-habitation love series. This drama is slow burning – the two leads have been friends for so long, about two decades when their relationship suddenly progressed to more than friends. They have to live together for quite some time.
Although both came from different backgrounds, one is a rookie photographer and one works in the music industry, will their current circumstances and long-time history bring them together romantically? This drama stars Han So Hee as Seo Eun Soo and Park Hyung Sik as Han Sun Woo.
Tomorrow
If you are into fantasy television series, then Tomorrow will fit your picky taste! This refreshing take on Grim Reapers would have your heart swell with joy and giggles as you watch it. This webtoon based drama tells the story of a young man who is in desperate need of a job. Although he graduated from a prestigious university, has wealthy parents and is undeniably good lucking, Lady Luck seems to be not on his side as he can't land a job. Until he met two Grim Reapers.
Suddenly, he became part of the team's Crisis Management and suddenly became a person who saves suicidal people. This exciting new take on Grim Reapers stars Kim Hee-Seon as Gu Ryeon, Ro Woon as Choi Joon-Woong and Lee Soo-Hyuk as Park Joong-Gil
LINK: https://asianwiki.com/images/f/fa/Tomorrow_Korean_Drama-p1.jpg
Well, it's March now and I have several dramas ligned up, but can I say that this is an exciting month? I honestly don't know how to add up hours in my day to watch all these hot new dramas! Let me know which one are you most excited for!