Cignal Entertainment, TV5, and CS Studios (the production company of Cornerstone Entertainment) scored a triumph of three (3) wins during the official announcement of National Winners of ASIAN ACADEMY CREATIVE AWARDS 2021, held virtually last Sept. 30.
From the submissions of different TV networks and streaming platforms in the Philippines, Cignal, TV5, and CS Studios reaped three recognitions as National Winners for Maja Salvador, her primetime series on the Kapatid Network "Niña Niño", and "Sing Galing."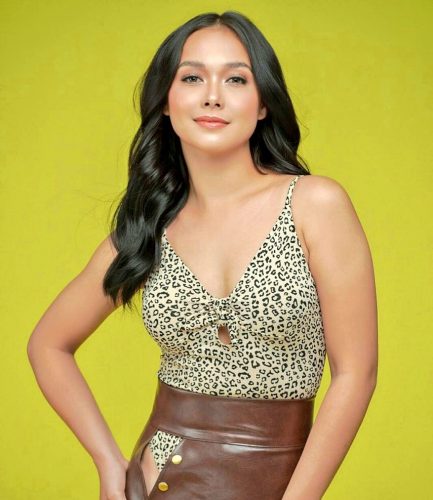 The Asian Academy Creative Awards (AAA's) is established to serve the creative industries as the pinnacle of their achievement in content creation and media production.
Dubbed as Asia Pacific's most prestigious awards for creative excellence, it will have its Grand Awards and Gala Night on December 3, 2021.
BEST ACTRESS IN A LEADING ROLE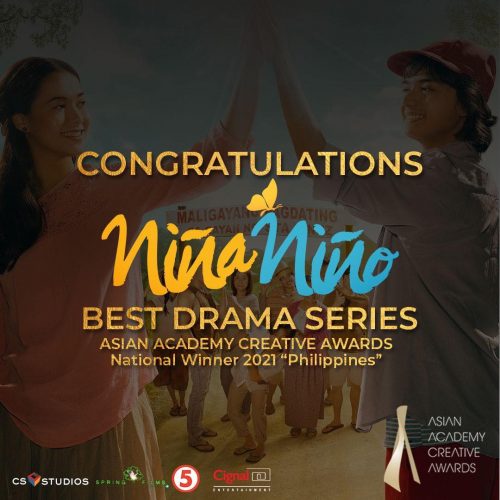 Maja Salvador won as "National Winner" (for the Philippines) in the Best Actress in a Leading Role category.  She will compete with the other actresses in the entire Asia Pacific Region, representing the  country for her work in "Niña Niño".
Maja will compete with:
1.  Rima Ti Wiata for "The Tender Trap" (New Zealand)
2.  Song Yi for "My Heroic Husband" (China)
3.  Tang Lai-yan Stephy for "We Are The Littles" (Hong Kong)
4.  Konkona Sen Sharma for "Ajeeb Daastaans:  Geeli Pucchi" (India)
5.  Amanda Manopo for "The Ties Of Love" (Indonesia)
6.  Misato Morita for "The Naked Director S2" (Japan)
7.  Lee Si-young for "Sweet Home" (Korea)
8. 
Siti Saleha for "Black S2" (Malaysia)
BEST DRAMA SERIES
"NIÑA NIÑO" was declared the National Winner for the Philippines in the Best Drama Series category.  Also starring Noel Comia Jr., Empoy Marquez, Moi Bien, among others, the show will compete with:
1.  "Hungry Ghosts" (Australia)
2.  "Humans China" (China)
3.  "Ink At Tai Ping" (Hong Kong)
4.  "Scam 1992:  The Harshad Mehta Story" (India)
5.  "Maya's World" (Indonesia)
6.   "The Naked Director S2" (Japan)
7.   "Move To Heaven" (Korea)
8.   "Project Anchor SPM" (Malaysia)
9.    "Mind Jumper" (Singapore)
10.   "Mother To Be" (Taiwan)
11.   "Girl From Nowhere S2" (Thailand) 
BEST NON-SCRIPTED ENTERTAINMENT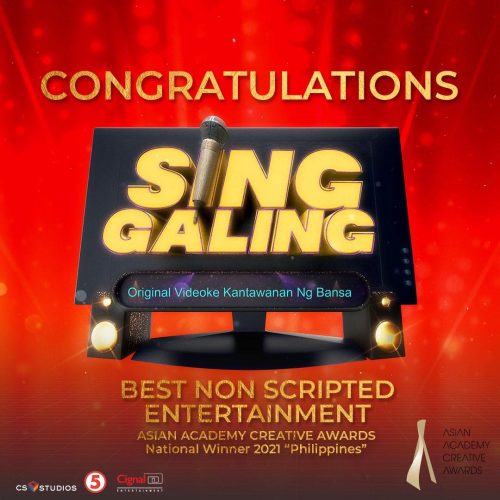 For the Best Non-Scripted Entertainment category, "SING GALING," hosted by Randy Santiago, K Brosas, and Donita Nose, won as the National Winner.  The original karaoke singing contest of TV5 will compete with the following shows in Asia Pacific region:
1.  "Theatre For Living" (China)
2.  "Expedition:  Asia" (Hong Kong)
3.  "Cruising Legends:  Dawn Patrol" (India)
4.  "Cosplay Japan" (Japan), "Youn Stay" (Korea)
5.  "A Grey Area" (Malaysia)
6.  "The Apprentice:  One Championship Edition" (Singapore)
7.  "The Wall Duet" (Thailand) 
Meanwhile, Sylvia Sanchez and Nonie Buencamino also won as the Philippines' National Winners as Best Actress in a Supporting Role and Best Actor in a Supporting Role, respectively, both for ABS-CBN's "Huwag Kang Mangamba".  They will still compete with other countries on December for the Grand Awards.
JM De Guzman won as the country's National Winner as Best Actor in a Leading Role for "Init Sa Magdamag" (international title:  "When Love Burns" of the Kapamilya network).  He will compete with the other entries from the region.
There were other PH National Winners in various categories such as documentary, news and public affairs, children oriented shows, lifestyle, musical shows, etc.
The Asian Academy Creative Awards honors excellence in craft and technical disciplines across multiple platforms including television, digital, mobile, streaming, and any other emerging technologies.