THE yearly MMFF movie marathon tradition continues this year after skipping one year of watching in the cinemas. This is a huge step for moviegoers, theater owners and movie producers as this is our first step to 'the new normal'.
Yes, Pinoy movie lovers are slowly but surely going back to the cinemas and the Metro Manila Film Festival this year serves as a dry run and hopefully, it will encourage more fans to watch a movie despite the new rules like no eating, social distancing and so on.
We noticed that there's a lack of promotion for all the eight competing films. Some fans don't even know that their idols do actually have a movie this year! To make it easier for you to decide on which films to watch, here's the list of the 8 Metro Manila Film Festival 2021 films with trailers and important information. Read on!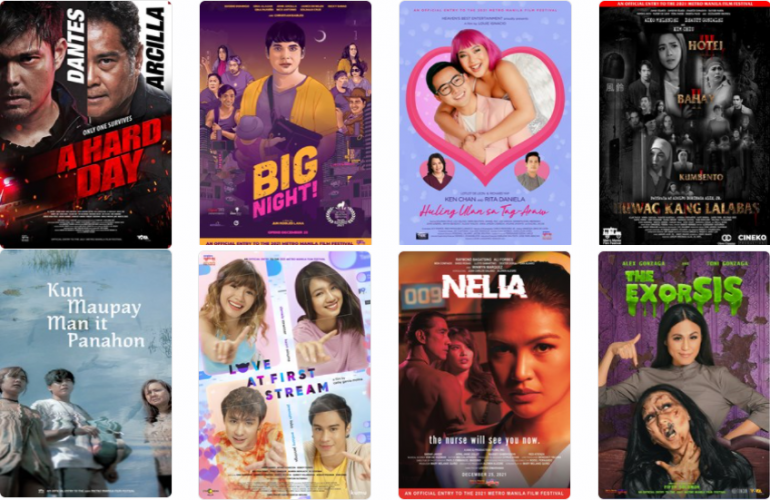 1. A HARD DAY
Starring Dingdong Dantes and John Arcilla
Director: Lawrence Fajardo
Detective Edmund Villon (Dingdong Dantes) is having a hard day and the following events happen to him in less than 24 hours: His mother passed away. He and his coworkers are investigated by police inspectors over alleged embezzlement. Then on his way to his mother's funeral, he drives recklessly and commits a fatal hit and run. He tries to cover-up the accident by hiding the man's corpse in his deceased mother's coffin. After the burial, Lt. Ace "Alas" Franco (John Arcilla) out of nowhere, starts giving Villon threats and warnings. He is about to expose Villon's crime if he does not get what he wants from him – the corpse of the man that Villon hit.
2. BIG NIGHT
Starring: Christian Bables, Eugene Domingo, Janice de Belen, Gina Alajar, Ricky Davao, John Arcilla and many more.
Directed by: Jun Robles Lana
This social comedy-drama follows a beautician Dharna (Christian Bables) who tries to clear his name when he finds out that he is part of a neighborhood watchlist of Oplan Tokhang. Dharna has 24 hours to remove his name from the list before it gets the police, or he is shot on site.
3. LOVE AT FIRST STREAM
Starring: Anthony Jennings, Jeremiah Lisbo, Daniela Stranner, Kaori Oinuma
Director: Cathy Garcia-Molina
Love At First Stream is set in a world where life has become wildly digital. It will center on four people: a streamer, a student, a breadwinner, and a heartthrob. The movie will see each of these characters explore love and friendships online to escape their realities offline.
4. Kun Maupay Man It Panahon (Whether The Weather Is Fine)
Starring: Charo Santos-Concio and Daniel Padilla
Directed by: Carlo Francisco Manatad
Determined to flee to the big city after Typhoon Yolanda (Haiyan) ravages a coastal town, Miguel searches for his mother Norma and his beloved Andrea before another storm approaches.
5. NELIA
Starring: Winwyn Marquez, Raymond Bagatsing, Ali Forbes
Directed by: Lester Dimaranan
A suspense film follows a nurse who has been working in a hospital for six months and has never recalled an instance when a patient survived in Room 009. She personally investigates the causes of the deaths.
6. HUWAG LANG LALABAS
Starring: Aiko Melendez, Beauty Gonzales and Kim Chiu
Directed by: Adolf Alix Jr.
The movie is separated into three episodes, with each one telling its own tale of spooky creatures and things that go bump in the night.
7. HULING ULAN SA TAG-ARAW
Starring: Rita Daniela and Ken Chan
Directed by: Louie Ignacio
A seminarian looking for a sign, an entertainer longing for more time. Their lives take a sudden turn when fate leads them to an unexpected romance.
8. THE EXORSIS
Starring: Toni and Alex Gonzaga with Melai Cantiveros
Directed by: Fifth Solomon
An uptight manager of a family grocery business estranged to her younger quirky sister searches for a way to save her from the evil spirit that has possessed her sister's body.
Which of the eight films are you planning to watch this MMFF season? Happy watching at Mabuhay ang Pelikulang Pilipino!