I HONESTLY look forward to writing these types of article. It's another month and here I am again with a fresh new list for the upcoming Korean dramas that will air this June.
This will be a two part article, so keep your lids open on the next one. In the meantime, here are my top 5 Korean dramas to look forward to this June.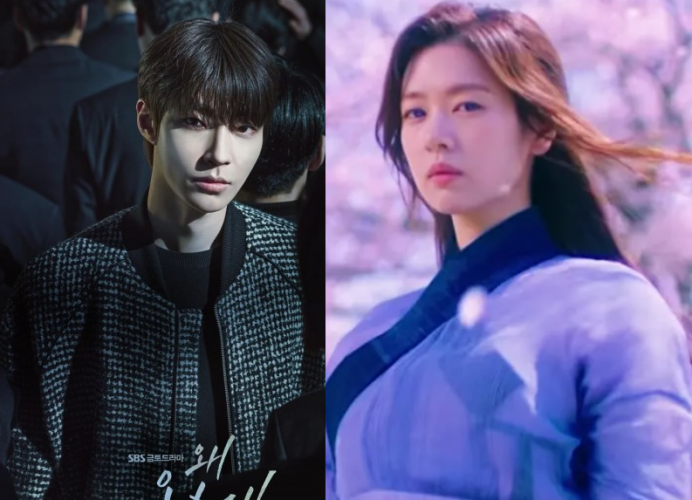 Why Her
Why Her is one of the dramas I am honestly looking forward to watch. It is not because I am a frustrated lawyer, nor I am in love with Hwang In Youp, but I am looking forward to watch this teacher-student love story unfold. It's so refreshing to see the man fall in love first, and a woman who is well accomplished more than the man. This story tells the life of the talented and charming lawyer Oh Soo Jae played by Seo Hyun Jin, the youngest partner at Korea's most prestigious firm. She was demoted to teach at the Seojung University, where she met the warm hearted and charming Gong Chan (played by Hwang In Youp). This 16 episode legal drama, romantic drama is set to air on June 3 on SBS TV.
Yumi's Cells 2
Finally, we have Yumi's Cells 2! Everyone, let us set our alarms! This much awaited season 2 is finally airing this June.  Now that Yumi is wiser in love and in life, what will we be expecting? Surely she broke up with our stan, Woong. But will love end for her? Yumi's Cells 2 picks up where it left off – with Yumi's life.
IN this season, Yumi cut her hair showing a braver more mature side of her. This season also explores the budding love story of Yumi and Bobby, someone who brings new excitement and challenges in her life. This show stars Kim Go Eun, Park Jin Young, Ahn Bo Hyun, Lee Yoo Bi and Park Ji Hyun. It is set to air on June 10.
Cleaning Up
This is the comedy-crime drama you never knew you needed. Cleaning Up tells the struggles of three cleaning ladies Eo Yong-Mi ( played by Yum Jung-Ah), An In-Kyung ( ( played by Jeon So-Min) and Maeng Soo-Ja ( played by Kim Jae-Hwa) as they go on about with their work as cleaners in a brokerage company. They have dreams of their own – one raising two daughters properly, the other running a mobile café. Although lofty, they have no means to reach these, until one day they stumbled on an insider training information that could change their lives for the better. This show is set to air on June 4 in JTBC.
The Jinx' Lover
The Jinx' Lover is the story of two different people who met at one point in their lives, meant to meet again after seven years. Gong Soo Gwang (played by Na In Woo) is a fishmonger popular for being unlocky, that is why people always avoids him. His unluckiness started after he met Lee SeulBi many years ago. Lee SeulBi on the other hand is this talented young woman who has the special ability to see the future on an individual just by touching him or her. She escapes captivity and meets Soo Gwang again after seven years. Will their unlucky streak turn for the better? This romantic comedy is set to air on June 15 in KBS2.
Alchemy of Souls
This romantic fantasy Korean drama series is the work of art of the famous Hong sisters who brought us My Girl, Master's Sun, Hotel Del Luna and many iconic Korean drama. Set in a fictional land of Daeho, the fate of the characters are twisted due to reincarnation. One is an elite warrior Mu Deok, who is reborn in the body of a physically weak servant. The other is Jang Wook who is a noble but has a troublesome past. Will they be able to break the curse of heaven and earth or will they stay trapped in their current bodies? This series is set to air on June 18 and stars Park Hye Eun, and Minhyun from NU'EST.
What a promising list already, and it is just part 1! Stay in tuned for part 2! Coming up next!