IF YOU are tired from watching nonstop Korean dramas and would want something different, or refreshing, just like a glass of cold lemonade in a hot summer day, then you should start watching Chinese dramas.
These dramas are as diverse, intriguing and captivating as other Korean dramas. And it is easily accessible too! You can watch these and more in streaming sites such as iQiyi.
Here are the best Chinese Dramas of 2021 you can stream on IQ.com!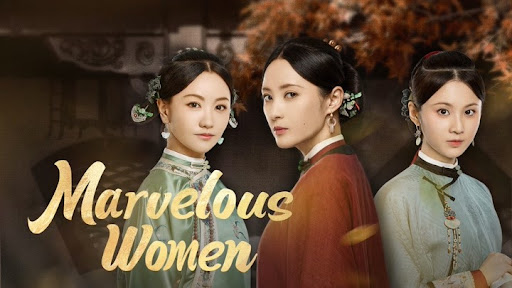 MARVELOUS WOMEN

Where are my alpha women at? This wonderful television series weaves in drama, power, and intrigue, and amidst a typically male dominated field, a woman (some women) emerges victorious. Although it is the typical period drama you see on television or streaming, this is not your typical plot.
This tells the story of how the Ren family, who is the pioneer of the weaving trade in the province, struggled to guard its weaving secrets and put a man in the leadership position. The husband, who loves poetry and philosophy shows no interest in the business. The wife however, an intelligent, opinionated and aggressive woman takes the reigns of the business and shows everyone how it is done. This period, political drama stars Zhang Hui Wen, Mao Zi Jun and Yang Rong as the main casts.
A CAMELIA ROMANCE
Another historical drama but on the lighter side, A Camelia Romance is the perfect choice for you to watch after a tough day. The drama tells the story of two business families – one as the number one tea merchant in the world, and the other prominent in the silk business. Xu Chun Chun, who continually is oppressed by her stepmother, caught the attention of the heir to the tea business, Zhou Jun Jue and proposed her marriage.
Due to her predicament, she agreed only to get away from her stepmother with the plans of divorcing her husband. Little did she know that Jun Jue really did fell desperately and madly in love with her. This comedy romance television series stars Guo Zi Fan, Li Mo Zhi, Peng Chu Yue, and Mao Na.
REBIRTH FOR YOU
Rebirth For You is actually adapted from a very popular novel, Mu Nan Zhi written by Zhi Zhi. This polar opposites drama tells the against all odd life of princess Jiang Bao Ning and the Imperial Army quard Li Qian. The princess, who refuses to be a tool in the palace politics aims to break free. The guard, who is working hard to resolve some events in the pass is working hard to gain power in the palace. Despite their different circles, personalities and goals, both had fallen in love and are working together to overcome the obstacles that come with their forbidden relationship. This historical, romance, political drama stars Ju Jing Yi and Joseph Zeng.
SWEET TEETH
Sweet Teeth is a light, feel good romance drama series that will have you smiling from ear to ear. This tells the story of Ai Jing Chu, who is a handsome dentist and professor at Donghu University and Zeng Li, the university's librarian. Since Zeng Li needed orthodontia, she became Zeng Li's patient despite all of her efforts in avoiding him. She realizes that Jing Chu is in fact a warm and caring person, falling in love with him in the process. Apart from their love story, there are also two other couples who you will surely be shipping! This stars Wu Xuan Yu, Bi Wen Jun, Zhang Xiao Wen, Baby Zhang, Terry Liu and Wan Zin Li.
MY HEART
Another terrific fantasy, romance, supernatural, period drama genre, My Heart will make you squeal with delight and anticipation! Set in a fictional world, this tells the story of Lu Qing Qing, a lady without spiritual powers but full of energy and charm as she goes on with her daily life. Because of her sunny personality, the Prince Nangong Yi Xin fell in love with her. Their would be love story is hindered when Qing Qing met the arrogant but caring, daring but charming playboy Prince Yi Xin. Who will she choose? This stars Yang Ze, Jason Koo, Faye Wang, Will Song, Wang Yi Nuo, Hai Yi Tian, Cheng Xiao, Qiu Hong Kai
There you have it! These are just some in my list, I know you have yours as well. Let me know if I miss anything in the comment section!