'SWITCH ON' is the eighth extended play of South Korean all-boy group, ASTRO. Released last August 2, 2021 under the Fantagio Music, the album contains six songs with the lead single "After Midnight".
Although they recently released another studio album "All Yours" last April 5, 2021, I am honestly beyond crazy happiness that ASTRO is highly productive, giving us memorable content to enjoy this summer.
Switch On is short, only about 20 minutes but I guarantee you that the group do not produce anything less than perfect. So here is my review on their album, read on, and of course agree with me!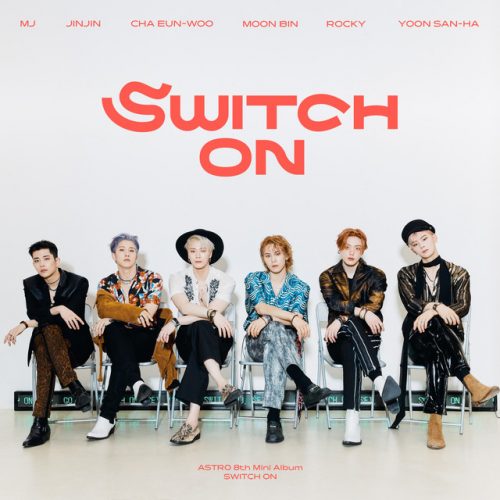 After Midnight
Lyricist Cha Eun Woo is really outdoing himself these days! This masterpiece, blessed with Eun Woo's voice in the beginning is the perfect lead single. It sets precedence to the theme of the album. Aside from the chill and upbeat vibe, it reminds me so much of the 90s, when everything was pleasant and relaxed. This song is such a rollercoaster ride!
Footprint
Footprint is one of the song in the album that proves our men are more than just their pretty visuals and physique – they are stupidly talented you ask yourself how is it possible. Lyrcis written by Bin, this makes me so proud to stan the group. Also, Fantagio is hearing our demands – putting the legendary rappers Jin and Rocky on vocals is just eargasm! My heart melts like butter hearing this!
Waterfall
The song Waterfall portrays great harmonization between six distinct voices. It feels to me that this song was written for us fans. I can easily imagine myself live in their concert, waving their official light stick amidst thousands of people in the crowd, while our beloved men serenade us with their sweet as honey voices and great stage presence. Is it just me or I teleported again while listening to this masterpiece?
Sunset Sky
First few notes in and I know I'm in for a perfect number. Not just the beat and the easy breezy melody, it is the lyrics as well. Who wouldn't swoon with the lines "I always still love you"? This totally underrated masterpiece of a song could easily be the perfect soundtrack to a blockbuster television drama. This song is just impeccable!
My Zone
From chill and easy to sultry and sexy in an instant! This song, My Zone, should be used in a runway where good-looking models strut their stuff, or a commercial to sell the things you didn't know you needed. Either way, I am dying to see the choreography for this masterpiece. Thank you to both Jinjin and Rocky for the lyrics of this song!
Don't Worry
I was literally crying after listening to Don't Worry. As a fan of Astro for many many years, this song is so different compared to their other songs. But this difference is very much welcome. It is different in a way that I feel so special listening to it, the deep and beautiful meaning has got me comforted like a mug of hot chocolate on a winter's night. Also, can I just say that I love how extremely inclusive this group is? They have our backs, and fan boys too!
I am glad that I live in the same period of time where talented, inclusive and versatile artists also live. It is such as pleasure, as always, to listen to their work and patronize their craft. I feel spoiled!! To all other fans out there, I assure you, time is not wasted when you listen to Switch On album.