Last August 17, 2021, Red Velvet gifted us with their sixth Korean extended play – Queendom. Their 12th overall, this album contains six tracks with the title track – Queendom.
Although the album release has been announced since June 9, promotions heavily started in almost a week prior do the 1st of August, which is actually their 7th year inside industry. To heighten the anticipation of the album release, promotional events included props that was used in their previous music videos.
As a fan of the group, I am very happy that the album was released in time for the ladies anniversary debut. Here is my honest and personal view of their album.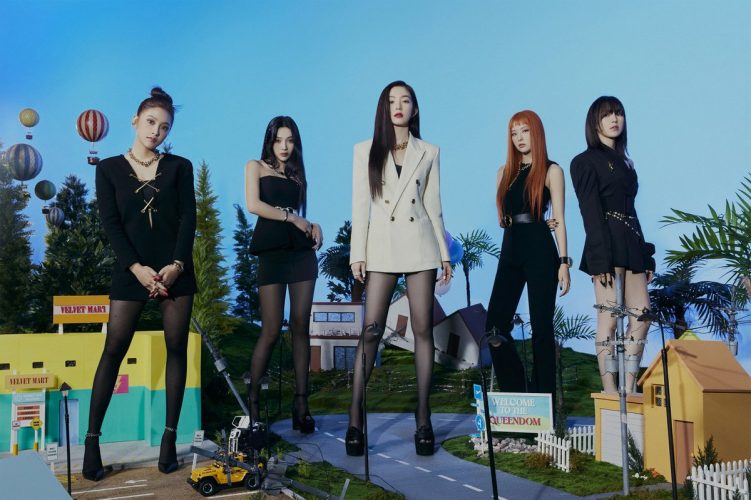 Queendom
At the time of writing of this review, Queendom has been trending in Youtube. And why not? The message of the song is exactly what we needed in these extraordinary times. The video is full of pleasantness and positivity as well. It is also the perfect tune for this summer! With addicting lines such as "We are Queens in the reed castle, Don't need crown were born to Dazzle" coupled with Wendy's high notes and rapping Irene and Yeri, this song is the bomb!
Pose
From pop and fun Queendom, we move on to the upbeat and kickass Pose. The first few beats alone woke up my sleepy self and commanded my full presence and awareness while listening to this track. The lyrics in this song is also about positivity, empowerment and taking control of your life – beyond the frame. If you need more motivation in  life and encouragement, play this song and sing at the top of your lungs. Strike your best pose and make the world your runway!
Knock on Wood
This is honestly the best song on the album, in my honest opinion. Sans lyrics, the harmonization, notes, bridges, everything is just perfectly executed! I couldn't think of a thing that needs to be improved! Just like most of the songs in the album, this song makes you feel so happy and fresh, like listening to this keeps your steps a tad bit lighter and your day a bit bearable. Great song to be included in a romantic comedy drama too!
Better Be
Better Be is the track in the Queendom album that showcased all the ladies' versatility and vocal prowess. This song highlighted what they can do, to remind us mere mortals of their not-so human talents. But, for me, Irene is a step ahead in this track. Her deep rap voice ala ASMR rapping just did it for me! Also, can I just say, it is always a fun song if you here Yeri leading the vocals in the chorus part!
Pushin' N Pullin'
Pushin' n Pullin' perfectly depicts the dilemma an unsure lover goes through in a relationship. To be able to receive assurance from your lover, as this song's message is all about, is highly comforting. If the message and the lyrics of the song is warm, the melody is just fire! Joy's vocals in this song is just next level, how can she be getting better and better through the years?
Hello, Sunset
Honestly, the title of the track is perfect as I can easily imagine myself listening to this song on a beach while staring at the stunning sunset with a cold drink on my hand. Vibes aside, I think it's refreshing to hear Irene and Yeri not rapping, but mostly singing, especially the lines in the song. We tend to forget that aside from being bad ass rappers, their vocals are also superb.
This album is the much needed palate cleanser I needed after a long tiring day. It reminds me to look at the positive side of life and even evokes warm and pleasant feelings that I have long forgotten. Thank you, queens, for this much needed respite.