BANGKOK is one of my favorite cities in Southeast Asia. There's just something for everyone: If you love food, culture, history, night life and anything else you can think of, they have it! I had an amazing experience and I cannot forget the warm hospitality. Thai people are just welcoming.
I have only but good things to say about Bangkok. Thus, I am extremely pleases to write this article for you, curating the best possible experience Bangkok has to offer you and your family and loved ones.
If you're just planning to stay in Bangkok for a few days, there are my suggestions for 5 Things to Do in Bangkok, Thailand!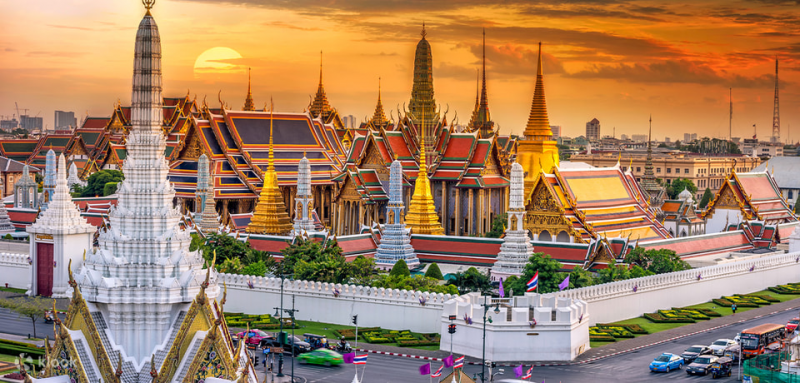 1. Go Bangkok Bike Tour and Bangkok Floating Markets Tour
What better way to experience Bangkok but to do it like a local – biking around the city with an expert and friendly guide tour biking with you. You will have our own bike, helmet and a wonderful guide while seeing the city and learning its rich cultural history. You go through the Customs House, Holy Rosary Church, Chinatown, the famous Phraya River among many things. You will be emersed with the vibrant Chinese and Muslim cultures of the city. If you just want to sit back and relax, then do the Bangkok Floating Market Tour where you weave through the Damnoen Saduak Floating Market's maze of vendors, the largest and most popular floating market in the country!
2. Ancient Ayutthaya Tour and Grand Palace
Personally, the highlight of our tour was visiting the amazing historical places around the city. We have seen the stunning Ancient Ayutthaya which is actually a recognized UNESCO World Heritage Center. The temple grounds and the ruins are breathtaking, making you want to snap tons of photos in the area. Grand Palace literally is fit for a king. Grand Palace, Bangkok's most famous landmark where the Thai King resides. Near it is the Wat Phra Kaew where you can marvel at the Emerald Buddha!
3. Khao Yai Nature and Wildlife

Khao Yai National Park is one of the most visited places in Bangkok, and it is quite obvious why when you get there. It is as if you are transporter to a world that is pristine and only offers unparallel beauty. This UNESCO-recognized site's flora and fauna would simply leave you stunned. In the area, you can also go on hiking, white water rafting adventure, or even a night safari tour.
4.  Shopping at Siam Paragon and Terminal 21


Did you really go to Bangkok if you did not do some shopping? My mom actually really enjoyed shopping through the many many aisles of Siam Paragon and Terminal 21. Here you are treated with amazing bargains – from clothes, shoes, bags to gadgets, they have everything you could ask for! As for me, I truly enjoyed the local cuisine, grabbing some local garb while holding my mom's bags as she shops away happily! The best part about these malls? You can totally haggle your way for a perfect bargain!
5. Bangkok's Best Eats Midnight Food Tour by Tuk Tuk
This is hands down the best food tour and food experience I've had yet. What better way to experience real Thai food than going around the city with a guide, in the country's amazing and iconic land transportation, Tuktuk. This four hour food tour across Bangkok food places allows you to sample some of the country's most popular dishes, such as Pad Thai and Ann Guay Tiew Kua Gai. You can also take in a gorgeous view of the city as you sip on a glass of chilled beer at a hidden "Secret Bar" on a rooftop. If that isn't a winner, then I don't know what is!
There you go! My best things to do in Bangkok that covers nature, shopping, food, and everything in between! Pack your bags and make sure your pants are lose, you are in for an amazing experience!