ON THEIR supposed 10th year in the business as a group, NU'EST finally decided to end their career as a boyband. As a final goodbye and thank you to the fans who supported them throughout the years, the group recently released their last compilation album – Needle & Bubble.
This compilation album released last March 15, 2022 is under Pledis Entertainment and could be listened through CD and digital download.
Here is my honest review of the album and its tracks.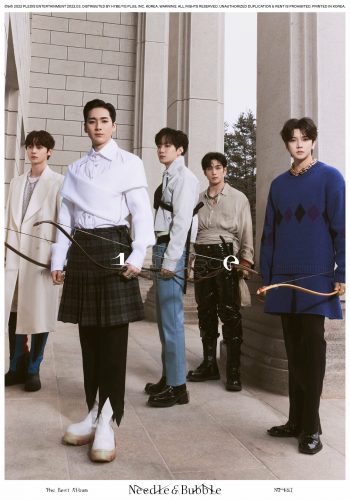 Hello
Hello brings back a lot of memories of my high school days. Listening to it again after many years is extremely nostalgic for me. It was when I discovered that I am utterly and irrevocably in love with Minhyun and Baekho's voices. The music video of this song is also iconic, at least for me. At first I got caught up with the necktie dance and then I was pulled into a rabbit hole. I got engrossed with the story line and the lyrics.
Overcome
That's a word I would describe Nu'est's music now that we are in the 2022. This song just simply overcome whichever expectations we have, way ahead of its time in my honest opinion. When I first listened to this I thought wow what a freaking masterpiece this song is! It made me stan them more and I wondered why they are not that of a big deal if they are THIS talented!
Love Paint
When Love Pain was first released, together with the music video, I thought to myself this has got to be the most underrated comebacks ever! Together with Overcome and this masterpiece, I think it is an era of its own. Together with the music video, this just screams raw unadulterated talent in my book. I guess I would have to live with the fact that I will not get over Love Paint!
Bet Bet
I thought that they couldn't do any better with the amount of production genius they release every now and then, but boy was I proven wrong. Listening to this song makes me feel like I have to pay more than what I did in streaming services. Watching the music videos for free makes me think, is this really free? Jokes (or is it?) aside, I was so happy that this song introduces them as a whole again. The ending is a subtle statement that somewhat says  "Welcome back Minhyun!". And I'm all for it.
Love Me
Love Me is the song that I listen to when I need a pick me upper. This fun, flirty and light song easily sets me in a good and vibrant mood way better than any ice cream or cake can! There are days that I just play their music video on loop and dance to it, endorphins for hours! And how can I say no to these utterly handsome and talented men? Impossible! I have love them indeed!
Different
Different has the same vibes that Love Me has. It's so chill to listen to and it sets you in a good mood everytime you hear it. Aside from the fantastic track, let me just highlight the impressive choreography of this song. As you can see in the video above, although this is just a rehearsal, you can see the level of professionalism that they have. The choreographer really knows how to highlight their talent!
Look (a starlight night) – Alternative House version
Look is one of those b-sides that makes you think "I'm proud to be a fan of this talented group". In my many years of stanning kpop groups, I think Nu'est makes one of the best b-sides ever. Lyrics wise, I love it. It makes me feel that with them we will always be together. For Needle and Bubble, they produced an Alternative House version. So cool!

The original song and choreography video video shows you how much talent they have. Dressed in simple casual, no special effects and dancers, they still captured our hearts with pure talent!
I'm in Trouble (Urban version)
Definitely I'm In Trouble is one of my many favorites! It is so catchy! Apart from that I love that this is composed and written by the talented Baekho. I love that this song gave equal lines to all members, shows how much he loves and respects them!
The original music video for the song really made me change biases everyday. They're all biaswreckers!
For the Needle & Bubble version, they gave 'I'm in Trouble' a more urban flava. Well, that's hot!
Galaxy
Galaxy is probably the closest single to be able to encapsulate all of NU'EST's talents and versatility. This also perfectly captures how much of a talented group NU'EST is – their talent expands galaxies. Every time I listen to this, I imagine that this song is written for me and I have the butterflies in my stomach! It just hurts that this is one of the last two tracks from the group. Huhu.
Again
This song is extremely beautiful. No words could ever describe this. All I can say is thank you Nu'est for all those wonderful years. I'm really proud to see them debut as five and ending as the same five in a group. They've stuck with their line up for ten years and again and again we are thankful.
Okay, before I bawl my eyes and heart out, I am extremely thankful to be part of this group for the past ten years. Seeing them grow from boys to men is such a wonderful blessing. I will continue to support them in their individual careers and I hope you too as well! Not for the last time, I love you Nu'est!