MY FRIEND who is such a huge fan, introduced me to Julie Anne San Jose. Even before her rendition of Super Bass, I have been closely enjoying her songs and projects.
It was many years ago. Now. She has blossomed into a wonderful woman packed with many talents – singing, dancing, acting, hosting, you name it she can do it.
Now her songs are making waves again on air and on television, let me share with you my favorite Julie Ann San Jose songs you definitely should listen to.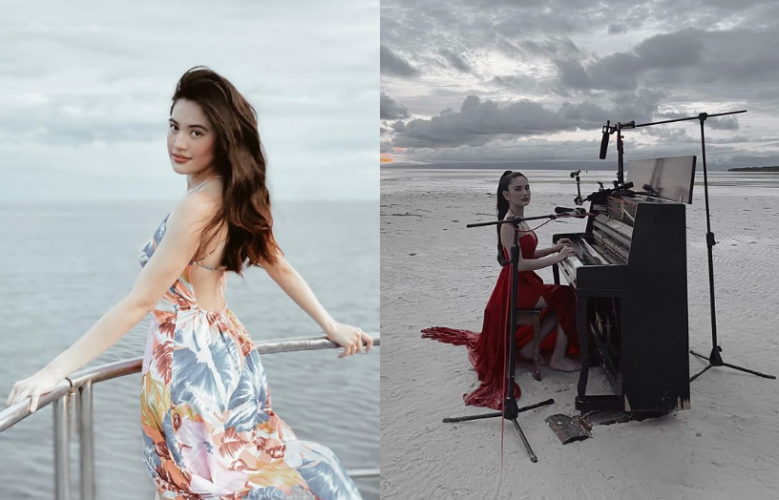 Everybody Hurts
Okay, I will say it from the get go. This is my favorite song yet. Everybody Hurts just makes you feel emotions you thought were just buried deep inside of you. Listening to it alone makes you feel human. I love how she and Christian Bautista delivered a powerful song that puts you in a melancholy like trance. Not only she is capable of doing high notes, she simply makes you feel alive just by hearing her music! Apart from the melody, the message is just piercing! Hearing this makes me hope that this song wins international awards for the talent and musicality it has! Seriously, this is one of her greatest yet!
Tidal Wave
Listening to Tidal Wave years ago made me realize that she really is one of the most underrated artists in the country. It shows by the amount of views (multi million) it has currently! It is unsurprising since it such an upbeat song. I love how you can easily jam and dance to it. Unlike some of Julie's birit songs, here she showcased that she can also produce an internationally popular song even without the high notes. That's pure talent and versatility right there!
I'll be There
I'll be There remains to be one of my top Julie Ann San Jose songs. It first starts slow and mellow, something you can easily vibe with. But in the middle, boom, there goes the talent! Her high notes and crystal clear enunciation is just something that hits hard. Also, she makes you feel something while listening to her songs. Granted that there are a lot of "birits" here, but they are high notes with emotions, not just to showcase her skills, but to elicit emotions from the listeners.
Right Where You Belong
Right Where You Belong is another oldie but a goodie song from the talented Julie Ann San Jose. Although this was many years ago, I still believe that this is one of her songs that deserve a lot of recognition (and streams in Spotify!). The message of the song also is very relevant considering the events lately. Listening to it is so heart-warming, makes you feel that you will never be alone. This is my go to song whenever I feel down, I vibe to it and I repeat the lyrics to myself. Then I emerge happier and stronger. Such a great hype song this one!
Better
Better is different from Julie's other masterpieces. It's a bit of techno-pop and R&B, not her usual high notes track but hey I'm loving it. Her voice is so damn smooth, smoother than a baby's butt! IN this track, she was given a lot of freedom as an artist, and it shows how much versatility she has with this song! Definitely, Julie is a league of her own!
Bakit Ngayon
Bakit Ngayon is another classic but a good one. Listening to it again after many years makes me ponder "was she already this good may years ago?". Definitely the answer is yes! Imagine being so young yet so talented when she recorded this!
So how about it? I honestly think that I captured all of the songs that shows her talents and depth as a singer. Which ones are your favorite?