MARIS RACAL recently released her second album titled Ate Sandali last June 11. The album, which is composed of 8 tracks is composed of previously released tracks and of course new, catchy and ear worm worthy ones.
Listening to the album is such a refreshing activity. Mostly pop and pop rock, the tracks perfectly reflect Maris as a song-writer and a singer. The tunes are fun, easy and artistic. Here is my honest review of the entire album, Ate Sandali.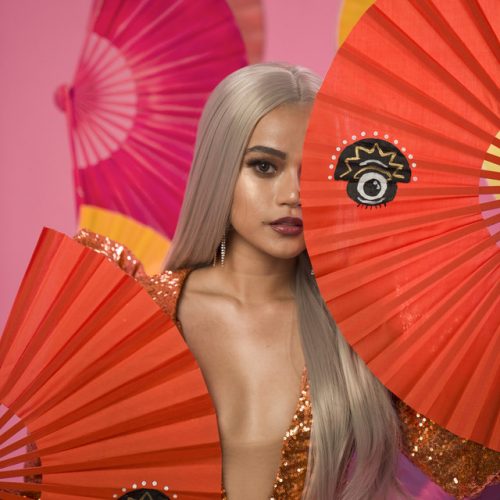 Ate Sandali
Ate Sandali is probably one of the most memorable track in this album. It is perfectly encapsulates the comings and goings of feelings in a relationship. I love how she manage to portray such dilemma in a hilarious and upbeat manner!  My favorite lines are "Kung ayaw ka niyang pusuan huwag mo nang subukan" , "Aasa pa basa wala?" and "Hayaan mo magsisi sa huli, tawanan mo nalang pag bumalik." This simple song packs a punch, it is an honest and much-needed reminder to all ladies out there, of all ages and of all circumstances. This refreshing and brutally honest song reminds us to value yourself first. Loving yourself is indeed more important than landi. Win! Note, can I just say, I love the attires! Well done on promoting the country's artistic pride!
Di Papakawalan
I can compare Di Papakawalan to a great palate cleanser to an amazing meal. The beats is just chill, calming and soothing. The lyrics is simple yet profound. I want to highlight the well placed instrumentals throughout the song!
Asa Naman
LSS has no words against this track – Asa Naman. I love how the beat is just refreshing and LSS worthy. Not only that this is a well-crafted track, I love how she normalizes the inclusion of Bisaya lyrics. We stan a queen who embraces and promotes her roots!
Not For Me
Not For Me, for me, has the most wonderful music video in this entire track. Not only that this was masterfully done, even without the music video, I would totally listen to this track again and again. Written entirely in English, this rivals international hit makers such as Taylor Swift, Selena Gomez and Olivia Rodrigo. This track, and the entire album deserves international recognition!
Pumila Ka
Maris turned her haters' rocks into diamonds! This Pumila Ka song is actually commendable, from the history, conception until it is brought to reality. I love the simple lyrics, the beat (super catchy!) and of course the message it brings about. It gives me such joy and good vibes just to listen to this. Considering that this is in collaboration with one of the greats, The Rico Blanco, would we even dared to expect less? I love how there is no cringe lyrics, nude ladies, extravagant effects and difficult choreography. It makes you focus on the song and its message. Well done on this!
Kahit Na Anong Sablay
Kahit Na Anong Sablay hits the spot for me, bulls-eye even! I love the guitar and the beat. This song perfectly shows how versatile Maris' voice is. She can change her voice according to the needs of the song. She can go fierce when needed, sweet when needed, chill when needed! I mean what a voice chameleon this girl is!
Carelessly

I totally did carelessly dances to Carelessly! I put the caution to the wind and just enjoyed the music. The beat of this song is so chill, perfect for a lazy day in or out. Everytime she releases a song, you can hear and feel her heart and soul put to it! Definitely putting this as one of my favorites!
Laro Laro Laro

Just when I thought that I heard it all from Maris, I am yet again proven wrong. Laro Laro Laro is that single that reminds you of the wonderful and peaceful time where OPM ruled the radio and everything is fine. Listening to this is just pure bliss and peace! What a wonderful track to end a magnificent album!
I truly enjoyed listening to her album. In one album, she managed to bring out a lot of wonderful emotions in me. Truly an experience listening to it!