NOT EVEN DOTING mother ZsaZsa Padilla could "cover up" for her daughter Karylle who accidentally bared her right breast during a song number in the same episode of "ASAP XV" in Boracay where actress Anne Curtis also exposed her right breast.
But will she do an Anne?
Curtis went to town bemoaning the aftermath of the incident—the uploading and downloading of photos and videos in the internet and the publication of pictures of her breast exposure in this paper.
"Why do they need to do this to me?" Curtis had protested during an interview with ABS CBN about the incident.
Even Sam Milby, Curtis' leading man in "Babe, I Love You," which is currently showing and reaping the benefits of the uproar over the boob blunder, joined the fray saying, "Who would want to expose themselves for a publicity stunt? Anne has never exposed herself. I don't think that she is really elated."
Now, this is where the hypocrisy and duplicity begin.
If Anne had not made a fuss about the incident despite the routine uploads and downloads in the internet of her image with her right boob hanging out of her bikini top, and Sam had not stepped up his defense, there would have been no uproar or furor. The issue would have been dead by now. It is only kept alive because of their movie.
The media being witness to events have the right to, er, expose what it deems the public ought to know or see. After all, it's supposed to be free and unbiased. Censorship, being the monster that it is, should not even be a nasty thought in anybody's mind. If it were there, it should be a very lonely thought.
Anyway, there have been similar breast-baring incidents in the recent past: Young actress Denise Laurel was caught on national television with her breasts hanging out when Jordan Herrera pulled her out of a swimming pool. Just last year, Marian Rivera's strapless dress slipped,while dancingin SOP exposing her boobs. These also made the rounds of internet sites.
Denise apologized to her family for the accidental indecent exposure. Marian kept her cool and silence on the incident. Both actresses remain to be popular. Denise appears on "Precious Hearts Romances Presents: You're Mine, Only Mine," and Marian has a movie this year, "You to Me are Everything."
In 1977, the local media have documented a similar breast-baring incident involving sexy singer Didith Reyes, who was then at the peak of her career as a recording actress.
Reyes, who passed away last year at the age of 59, was the original victim as vixen long before Madonna reinvented the terms. Reyes popularized songs like "Bakit Ako Mahihiya?," her paean to adulterous love. At the FAMAS Awards of 1977, Reyes was singing another of her hit songs, "Nananabik," live on national television when her right breast suddenly slipped out of the collar of her flimsy gown.
The next day, Didith's breast became tabloid fodder if not national news. She also supposedly attracted then San Juan Mayor Joseph Estrada who was in the audience during the incident with his mouth unhinged. The two were rumored to have become lovers shortly after.
Unlike Curtis, Reyes, a certified sex goddess of her generation, did not go on air or print to bewail the incident. Some say she relished her notoriety but kept a discreet silence about her breast exposure. Her records turned platinum and she won the Best Performer Award at the 1977 Tokyo Music Festival.
On Feb. 1, 2004, Janet Jackson accidentally exposed her right breast during halftime of the Superbowl XXXVIII. Justine Timberlake, who performed with Jackson referred to it as a "wardrobe malfunction."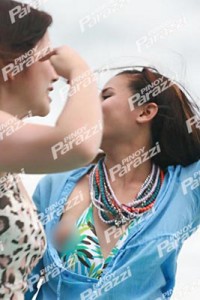 Other Hollywood stars and US singers had the same experience as Jackson. Pop stars Beyonce, Katy Perry, Lady Gaga and Nicole Scherzinger of the Pussycat Dolls "suffered" similar wardrobe malfunctions while performing.
Teen icons Lindsay Lohan, Britney Spears and Avril Lavigne were caught by paparazzi lenses with their boobs out of their tops. The same thing happened to Katie Holmes and Keira Knightley.
None of their careers have waned because of their wardrobe malfunctions. Lohan and Spears might not be as popular today but it's because of other issues—alcoholism for Lohan and plain craziness for Spears.
The term wardrobe malfunction has since become urban speak and has evolved into nip slip, nip being short for nipple.
We prefer to call such incidents as entertainment for the 21st century where anything can happen and the media have the right to inform the public who has the right to know–and see.