FROMIS_9 had recently released their fifth extended play this June 27 and I am totally here for it! The group, which debuted last 2018 under the Stone Music Entertainment had come a long way. Currently managed by Pledis Entertainment, the 9 all girl group released From Our Memento Box.
This EP has five tracks and had reached the number 1 position in South Korea. Through CDs, Kihno Kit, digital download and streaming, you can listen to the masterpiece of an album! Here is my honest review!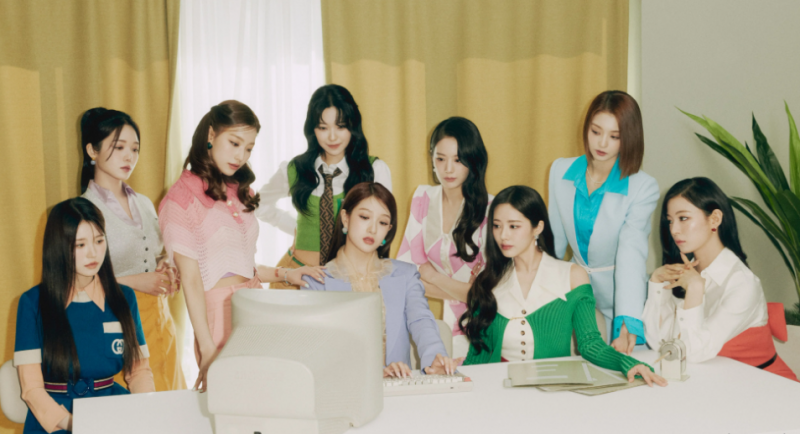 Up And
Up And is actually written by the super talented Jiheon and I did not expect it to be any less brilliant than it actually is. This song is about wanting to confess to someone but being unsure so you flip a coin but even though the coin is saying no, you're still flipping the coin until it gets you the answer you want because you want to tell this person. What a warming story! Very relatable to all genders! Not to mention the beat totally hypes you up! So for anyone who is prepping themselves to confess to their crush! Good luck!
Stay This Way
Stay This Way was totally made for my ears! This is among my favorite song this summer and I feel sorry for the repeat button these days. During this entire comeback season, Stay This Way sounded better and better with every listen, to say that it is simply addicting is an understatement! The group has such a 9 distinct sound unique to only them and one can always pick out one of their songs.Compared to others, their music is a breath of fresh air from the hundreds of girl crush concepts in the current kpop scene. that's what makes them stand out so much to me.
Blind Letter
Blind Letter is such a mood! I thought that the collaboration between Adora and fromis_9 is one of the best this season! Specifically, the blending of the ladies' voices here is just extremely pleasing to the ears. For one, I love how Jisun and Seoyeon executed their duet. I also love the fact that our girl Seoyeon has a lot of lines in here, which she totally deserves! The only thing I do not like about this song is that it is too short!
Cheese
Cheese gives you such an upbeat easy vibe that you would totally welcome in your summer. At first I see the similarity to some of Twice's tracks but listening to it over and over makes you identify that unique feature that is totally fromis_9. So far, this is my favorite Bside track from their album! I specifically like Jiwon's bridge part and Seoyeon's runs! Perfect song to play while sipping your gin and tonic along the seashore!
Rewind
Rewind is the perfect track to end this EP! All members slayed this and their various live performances. But I specifically love Jisun, Chaeyoung, and Jiheo, these ladies really killed it! I am glad that they introduced such concept to the album. Something different but in accordance to the theme. If they go through an album with this type of concept, for sure they would be off the charts!
From Our Memento Box is surely the best among the group's album! I am so happy to see them grow and identify their own style as they acquire more experience in the field. Now that it is comeback and promotion season, I would love to see the girls more in shows and music performances! They surely deserve all the attention!